Char Dham Car Rental from Haridwar
A Car is a very important and need for the Char Dham Car Rental from Haridwar. Char Dham is one of the most prestigious pilgrimage tours in India. But it is also very tiring, however, a car will be able to ease out all of your pressures from your Char Dham Tour. Having this will be very helpful for your Char Dham Yatra, it will save you a lot of time and effort. Thus, always book a car after you have booked your Char Dham Yatra from Chardham Tourism. Or always book a car with your Char Dham Package. If you want the best Char Dham Tour Services then contact Chardham Tourism. We are a Govt. Approved Char Dham Travel Agency and thus, we provide you with the most reliable and cheap Char Dham Tour Services.
Car Rental Rates:-
| Vehicle | Capacity | Rate (April to June) | Rate (July to March) |
| --- | --- | --- | --- |
| Indigo | 4 PAX | 4000/- | 3800/- |
| Swift Dzire | 4 PAX | 4000/- | 3700 /- |
| Bolero/Max/Sumo | 8-9 PAX | 5000/- | 4300 /- |
| Tavera | 6-9 PAX | 5500 /- | 5000/- |
| Innova | 6-7 PAX | 6200 /- | 5800/- |
| Innova Crista | 6-7 PAX | 6800/- | 6000/- |
| Ertiga | 6-7PAX | 5500/- | 5300/- |
| Tempo Traveller | 14 PAX | 9500/- | 8000/- |
| Tempo Traveller (AC Pushback) | 12 PAX | 9500/- | 8000/- |
| Luxury Bus (Non Pushback) | 24 PAX, 28 PAX, 35 PAX | 17000/- | 14500/- |
| Luxury Bus (2X2 Pushback) | 27 PAX | 18000/- | 15000/- |
| Luxury Bus (3X2 Pushback) | 41 PAX | 17500/- | 15500/- |
Char Dham Yatra Tour in Uttarakhand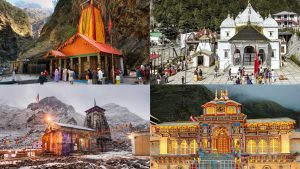 Char Dham Yatra is one of the best pilgrimage tours in India. It is the epitome of a pilgrimage package that will provide you with everlasting relaxation and satisfaction. The Char Dham Tour is a dream tour for every Hindu devotee. Millions of tourists undertake this tour every year. This tour provides you with the satisfaction that no other tour can provide you. Thus, it is one tour that you shouldn't ever miss. Char Dham Tour is a tour that will take you through the four mystical and holy temples in Uttarakhand that people strive to visit. These four holy temples are Gangotri, Yamunotri, Kedarnath, and Badrinath. It is a tour that will show you what the beauty of nature is capable of. It is a tour that will always satisfy you in the most convenient way. If you want to book the Char Dham Yatra for yourself then click on the button below. Get it today!
Type of Chardham Yatra Packages:
There are two ways the Chardham Yatra package can be availed.
Chardham Yatra Customized package
Chardham Yatra fixed departure package
In the case of the Chardham Yatra customized package, one can choose duration, destinations, car, and hotel according to his preference and can alter the tour packages as per choice as well. In other cases, the Chardham Yatra Fixed package does not allow you to change the duration or tour plan as per your choice. It is a prefixed plan. Everything like food, hotel, car, and destination was laid down previously for a particular budget.
Thankfully, this year Dada Boudir Tour and Travels is offering two types of fixed Chardham Yatra package one is standard and another one Luxury. These packages are affordable and trusted as Dada Boudir Tour and Travels is one of the approved travel agents in Uttarakhand.
Know more about the Chardham Yatra Package:-
Other services from Haridwar Car Services:-
Websites for more information:
Dada Boudir Tour and Travels, Haridwar, Chardham Travel Agency, Haridwar